Proof of Purchase: Receipt
Register First!
The easiest way to obtain your proof of purchase is to register your fan. Registration is quick and easy. Click HERE to register online, or simply use the PhotoRegister found on the inside flap of your box to register with your cell phone or on the PhotoRegister website.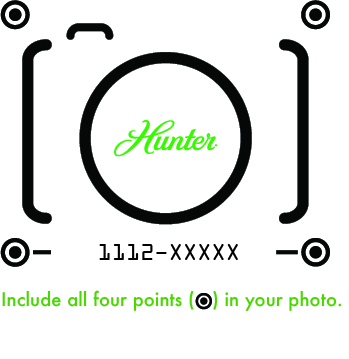 HunterFan.com Purchase
If you purchased your Hunter fan directly from our website, your receipt was emailed to you at the time of purchase. You can also download it by logging in to your HunterFan.com account through the "Sign In" on the top right corner of any page within our site.
Lowe's
In most instances, your receipt can be retrieved by using the original credit card, checking account number, MyLowe's card or by your phone number. For returns without a valid receipt, Lowe's, at its discretion, may issue in-store credit for the item's current selling price.
Lowe's Guest Services: 1-800-445-6937 or visit their website HERE.
Home Depot
Visit the location where you purchased your Hunter fan within 90 days of purchase. You will need to provide the date of purchase and the credit card number.
You can also contact Home Depot guest services at 1-800-430-3376 or online at https://www.homedepot.com/c/customer_service to request a copy of your receipt from as far back as 2 years.
Menards
In Store Purchases: Menards
You can look up and print a receipt of any purchase made with a credit or debit card or a check at the kiosk located near the service desk of any Menards® store. You can swipe your credit or debit card or enter your checking account information to view your transactions from any Menards® store that were made with that tender. Once you have swiped or entered the method of payment for the receipt you are looking for, you can narrow your results by the date or SKU number.

Note: To print your receipt, you will need to know your checking account information or have your credit or debit card with you.
Online Purchases: Menards
You can look up the receipts for any purchases that were made using any credit cards that have been added to your MENARDS.COM® account. To look up receipts on MENARDS.COM®, sign in to your account and select the "My Account" option from the the "Welcome, Sign In" drop-down menu.

Next, select "Lookup Receipts" located under the "Recent Purchases" section of the page and follow these easy steps:

1. Select the credit card used to make the purchase that you want to look up and update the date filter as necessary

2. Click the checkbox next to the desired receipt(s) in the Select column (you can select multiple receipts at a time if you choose)

3. Click the Save button to view the receipt as a PDF where you can save or print it.
Costco
Costco members can obtain a receipt from any Costco location - all you need is your membership card.
To contact Costco online, visit www.Costco.com.