Choosing the Right Downrod for Your Space
What Is a Downrod?
A downrod is an extension pipe that connects your fan's motor housing to the mounting hardware attached to the ceiling. If your ceiling height allows for the use of a downrod, it's recommended to help enhance your fan's functionality. Fans mounted with a downrod not only tend to circulate more air, but can help stabilize your fan, reducing the potential for wobble. Downrods measuring 2-6" in length are included with most Hunter fans. You can purchase longer downrods separately for use with higher, vaulted, or angled ceilings.
Browse Downrods on HunterFan.com.
Choosing The Right Size Downrod
The general rule is to have your ceiling fan approximately 8' to 9' above the floor in order to optimize the efficiency of your Hunter fan. Sometimes a downrod (extension pipe) may be required to achieve this. To calculate the downrod length you need, use this simple calculation:
Ceiling height (in feet) minus 9' (includes the fan height) = Downrod length
For example, if your ceiling is 12' high, you will need a 3' downrod to ensure the fan is positioned at the proper height.
NOTE: Hunter fans are compatible with single-threaded downrods while Hunter Original® fans require a double-threaded downrod. Make sure to purchase a downrod that specifies compatibility with the Hunter Original.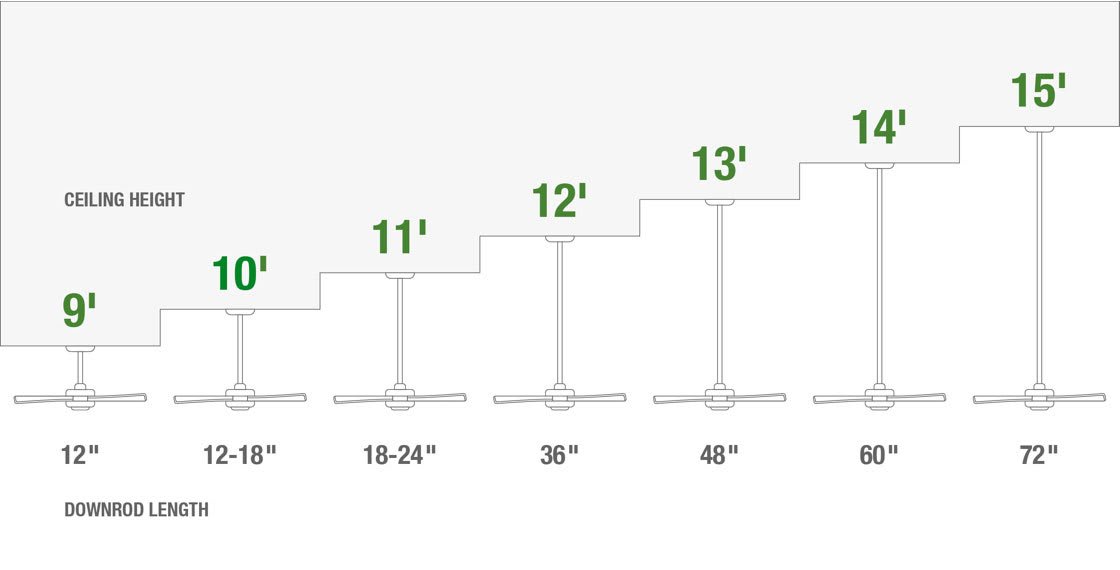 Find more tips on properly measuring ceiling fans to get the best fit for your space in our How to Measure a Ceiling Fan guide.